A great way to save time on your first Chiropractic Care visit is to fill out the new patient forms in advance of your first visit. In order for us to send them to you we need your email address.
Contact our office at 913-440-0333 to supply us with your email address OR send us an email asking for the new patient forms at hello@unruhchiropractic.com
Once you have filled out all the New Patient Paperwork now you're wondering what comes next ?
First Visit
You will begin your chiropractic care starting with a consultation with Dr. Unruh. He will review your reasons for seeking care as well as your medical history. This is a time for you to share what brought you in today and most importantly a perfect time for you to ask questions. The advantage we offer is you get to ask your questions directly to Dr Unruh. You don't have to explain your situation to multiple office personal. You get to ask your questions to the chiropractor who is going to help you get out of pain and keep you out of pain and that person is Dr Unruh.
After the consultation is done, Dr. Unruh will perform a new patient examination. This includes:
orthopedic and neurological tests
vitals
a general physical which may include X-rays if necessary.
There are over 1.2 million nerves running through your spine and 31 pairs of spinal nerves, so we like to be careful with what we do.
If you are in pain, we will typically perform a relief treatment on the first day, as well as send you home with instructions of what you can do to aid in your recovery. We will then schedule your follow up appointment for a time that is convenient for you.
Second Visit
On your second visit, we will go over your exam and X-Ray results, as well as discuss your chiropractic care plan. Each care plan is tailored to meet the specific needs of the individual, Dr. Unruh will personally come up with a plan just for you. We will also go over insurance benefits on this day and answer any questions you may have. Once this is completed, you will be adjusted, and we will begin your path to wellness.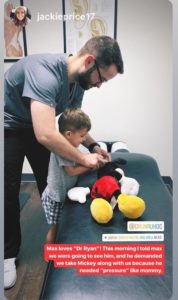 Third Visit and Beyond
Further visits will follow your individual chiropractic care plan that was developed by Dr. Unruh.
These visits are meant to:
halt your symptoms
reduce pain
correct your problem.
We do our best to respect your time while you are with us and keep your wait to a minimum.
Our ultimate goal is to make our patients feel welcomed and appreciated. We want you to leave our office having enjoyed your chiropractic care with us and feeling amazing. We believe in preventive care. While the immediate goal is to get you out of pain then keep you out of pain Dr Unruh will share advice for keeping you out future pain as you go through life with preventive care instruction. These are all apart of your individual chiropractic care plan.
At Unruh Chiropractic and Wellness we treat the entire family from Seniors to Adults to Children including women going through pregnancy. Patients recovering from auto accidents is another of our specialty areas.
Please don't hesitate to contact us with any questions. You can reach our office by calling us at 913-440-0333 or emailing us at hello@unruhchiropractic.com