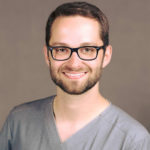 We want you to feel comfortable here at Unruh Chiropractic & Wellness. One way we hope to ease your anxiety is by sharing a little bit about Dr Ryan Unruh. It's not easy feeling comfortable visiting a new chiropractor. We hope this information helps you.
Ryan grew up on a farm near the town of Gypsum outside of Salina, Kansas. He wasn't a chiropractor yet so for now we can call him Ryan. Even though it's been many years since he lived on the farm Dr. Ryan still enjoys going back to the farm as much as he can. Spending time out on the land. He loves doing anything outdoors such as hunting, fishing and hiking. Feel free to ask him about his outdoor adventures.
After high school Ryan attended college at Kansas State University in Manhattan, Kansas where he graduated with a Bachelor's in Athletic Training and a Minor in Kinesiology in 2012. While in college he served as a Student Athletic Trainer for the Football, Baseball and Track & Field teams.
With his undergraduate studies complete Ryan enrolled to become a chiropractor at Cleveland University. This is where he earned his Doctorate in Chiropractic in 2016 and became Dr. Ryan Unruh.
Why did Dr Ryan choose to become a chiropractor? These are his exact words:
" I chose chiropractic because I truly love helping people. With many love ones suffering from back pain including myself I want to give people a healthy, drug and surgery free option to manage their pain. I feel very blessed to get to do what I love every single day. I give the same love and attention to detail to every single patient. " – Dr Ryan Unruh
Since graduating Dr Unruh found the love of his life, Elizabeth. The two were married in March of 2018 and they have one long haired German Shepard named Fluff. Dr Unruh and Elizabeth love traveling adventures. Favorite travel destinations so far include Colorado, Disney World, Germany and Italy. They are always looking for new destination ideas so don't hesitate to share.
Dr Unruh is a member of the following professional groups.
National Chiropractic Association
At Unruh Chiropractic and Wellness we treat the entire family from Seniors to Adults to Children including women going through pregnancy. Patients recovering from auto accidents is another of our specialty areas.
Please don't hesitate to contact us with any questions. You can reach our office by calling us at 913-440-0333 or emailing us at hello@unruhchiropractic.com